Monterey Studies
Die Monterey-Studies beruhen größtenteils auf Examensarbeiten, die deutsche Stabsoffiziere an der Naval Postgraduate School in Monterey zum Abschluss ihres Studiums der National Security Affairs verfasst haben. Viele dieser Arbeiten wurden von Prof. Dr. Donald Abenheim betreut, der selbst mit seinem Buch "Soldier and Politics Transformed" in dieser Reihe vertreten ist.
Torsten Gojowski und Sebastian Koegler: Building Special Operations Relationships with Fragile Partners  –  Best Practices from Iraq, Syria, and Afghanistan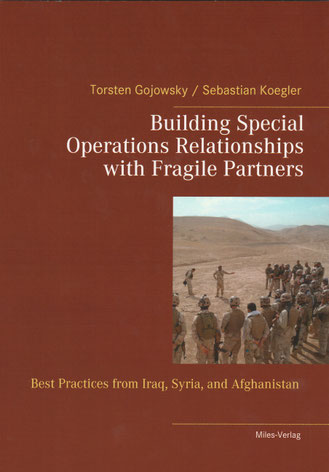 Torsten Gojowski und Sebastian Koegler: Building Special Operations Relationships with Fragile Partners – Best Practices from Iraq, Syria, and Afghanistan.
Berlin 2019, 120 Seiten, Paperback
ISBN 978-3-945861-88-2, Preis: 14,80 Euro
Relationships empower Special Operations Forces (SOF) to perform as a highly skilled and reliable cadre in collaboration with local partner forces to prevent and solve shared problem sets, often accomplishing more with less. Since 9/11, however, relationships between SOF and their partners have not always been properly built and maintained. The authors trace the causal effects of constraints, trainings, and incentives and their impact on the current North Atlantic Treaty Organization (NATO) SOF approach of building enduring relationships.
Motivated by numerous deployments to Afghanistan, Iraq, and Syria, with recurring problem sets, we chose to conduct a structured-focused comparison between U.S. and Danish SOF supporting Operation Inherent Resolve in Al Anbar, Iraq (2015–2018) and German SOF during the shift of the NATO-led International Security Assistance Force to Resolute Support mission in Afghanistan (2013–2015). The analysis of these cases finds that specific interactions of the studied factors not only cause variations in relationships between SOF and partner forces, but ultimately influence operations and objectives determining mission success or failure.
With further testing of our analysis and recommendations, this research can help to identify inherently flexible and nested strategic options for SOF senior leaders, allowing them to deploy SOF elements efficiently during times of asymmetric, diffuse, and episodic conflicts.
Stefan Klein: America First?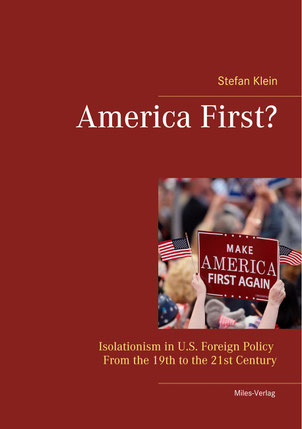 Stefan Klein, America First? - Isolationism in U.S. Foreign Policy from the 19th to the 21st Century.
Berlin 2017, Paperback, 160 Seiten.
Reihe: Monterey Studies (Bd.16) 
ISBN 978-3-945861-66-0, Preis: 16,80 €.
President Donald J. Trump's 2016 election campaign aroused fears among European North Atlantic Treaty Organization (NATO) allies about U.S.commitments to collective defense. One of his closest supporters, Newt Gingrich, announced that he would not risk a nuclear war over some place in "the Suburbs of St. Petersburg."
Was U.S. interventionism coming to an end?
Trump's new foreign policy seemed tantamount to isolationism. Thus, case studies of U.S. decision-making prior to entering the First and Second World Wars, U.S. involvement in NATO, and resistance within the Senate to large numbers of U.S. troops in Europe in the 1960s and 1970s help to trace the evolution of isolationism in U.S. statecraft.
Congressional partisanship, public opinion, and domestic political issues shaped U.S. foreign policy of the past. Hence, experts of U.S. political history should not be surprised about Trump's foreign political agenda.
Grégoire Monnet: The Evolution of Strategic Thought Since September 11, 2001. A Swiss Perspective on Clausewitz, Classical and Contemporary Theories.
Grégoire Monnet, The Evolution of Strategic Thought Since September 11, 2001. A Swiss Perspective on Clausewitz, Classical and Contemporary Theories, Berlin 2016, 156 Seiten.
ISBN 978-3-945861-29-5, Preis: 16,80 €
"A general staff officer of the Swiss Army, Monnet offers students of contemporary war a corrective to the iconoclasm and buzzwords from war colleges and think tanks that have beclouded strategic thought in the last decade and a half. His perspective on strategy in the 21st century puts to shame the promiscuous check lists of counter-insurgency tactics derived from colonial warfare and the dogmas of technological primacy in combat. His work contains a trans-Atlantic synthesis of otherwise countervailing ideas and practice. He eschews the deadend of junking the classical school and merges recent experience at arms with this valid heritage. This book highlights the young school in the brains of the Swiss Army and its centuries long contribution to strategic thought."
Prof. Donald Abenheim, NPS, Monterey/CAL
From a 'Clausewitzian view', Lieutenant Colonel Monnet has pointed out "the fatal mismatch between the strategic and political levels of the United States military and civilian governments execution of warfare and political end-state goal, outcomes, and desires…specially peace.. ". He "has framed the debate/dialog that needs to take place within the United States and NATO's military and political leadership not only at the War Colleges but [also] more importantly in the Houses where policy is made in Washington DC. and Brussels."
Colonel Mike "Grunt" Fallon, U.S. Marine Corps (Ret.)
Michael Hanisch: On German Foreign and Security Policy. Determinants of German Military Engagement in Africa since 2011.
Michael Hanisch, On German Foreign and Security Policy. Determinants of German Military Engagement in Africa since 2011, Berlin 2015, , 342 pages. 
ISBN 978-3-945861-20-2, Preis: 24,80 Euro
Beginning in 2014, high-level German politicians spoke plainly about a more responsible and more substantial German foreign policy—including stronger German (military) contributions and commitments on the African continent. In light of these public statements, three years of mixed policy outcomes have raised questions about the factors that determine Germany's decision-making on military engagements in Africa (and elsewhere) and the extent to which Germany's engagement in Africa since 2011 corresponds with Berlin's desire to take greater responsibility in matters of global security. Anchored in the case studies of Libya and Mali, this volume argues that within a complex interplay of determinants on three inter-related levels, six factors—strategic approaches (if applicable), multilateral imperatives, the mission framework, cultural and conceptual axioms, domestic politics, and policy-makers—chiefly inform Germany's decision-making process on whether and how German soldiers should be deployed in a certain mission. Based on this matrix of considerations, each such participation must be externally required, politically desired and indispensable, militarily affordable and feasible, and domestically justifiable. This project concludes that it is exactly the interrelated tenets of "empower others," "being restrained," and "being responsible" that drive German foreign and security policy and contributed to Germany's active but modest military engagements in Africa after Libya.
Michael Hanisch, M.A., is a General Staff Officer in the German Federal Armed Forces and currently working as the Personal Assistant to the President of the Federal Academy for Security Policy and the Secretary of the Advisory Board. He got a degree of educational science from the Helmut-Schmidt-University/University of the Federal Armed Forces in Hamburg and a Master's degree for Security Studies from the Naval Postgraduate School in Monterey (CA).
Uwe Hartmann: War without Fighting? The Reintegration of former Combatants in Afghanistan seen through the Lens of strategic Thought, Berlin 2014.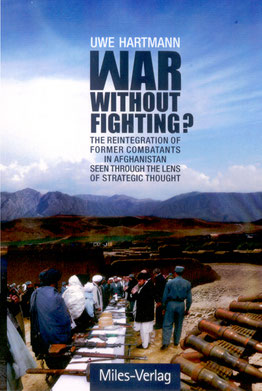 Uwe Hartmann, War without Fighting?, Berlin 2014, 144 Seiten, Paperback. ISBN 978-3-937885-86-5, Preis 14,80 €
During his inauguration speech on November 9, 2009, the then Afghan President Karsai announced to welcome and to provide "necessary help to all disenchanted compatriots who are willing to return to their homes, live peacefully and accept the Constitution. We invite dissatisfied compatriots, who are not directly linked to international terrorism, to return to their homeland." This bold political initiative is the foundation for the Afghan Peace and Reconciliation Program (APRP). Referencing DDR experiences from other countries and DDR programs in Afghanistan, the author examines the lessons learned that have been incorporated in the APRP. As in other countries, Afghanistan will be facing the challenges of reintegration for many years to come.
This book continues with the examination of the strategic implications of reintegration in wartime. It becomes evident that reintegration should not be seen as the sole realm of counterinsurgency (COIN). By contrast, reintegration must be regarded as an essential, even supreme element in the development of political and military strategies. Reintegration may not be suitable for all future conflicts. Nevertheless, the assessment of the feasibility, acceptability, and suitability of reintegration should not start when a conflict fought with military means is close to termination but rather as soon as possible after the initial outbreak of hostilities. If reintegration is launched in the midst of a conflict, all strategic leaders must be aware that this will likely have significant impact on their strategies.
Finally, strategists should be aware that reintegration cannot replace the use or threat of violence. Reintegration is not a panacea for subduing the enemy without fighting, a concept which Sun Tzu defined as the acme of skill. The capability of the host country and the intervention forces to fight successfully and the perceptions of the people are often decisive in the insurgent's willingness to reintegrate. Consequently, the utility of force should shape the support of reintegration, wherever possible and to the greatest extent possible.
Jochen Wittmann, Auftragstaktik
Jochen Wittmann, Auftragstaktik - Just a command technique or the core pillar of mastering the military operational art?
Berlin 2012, 108 Seiten, Paperback.
ISBN 978-3-937885-58-2, Preis 14,80€
Auftragstaktik grants commanders at all levels a maximum of freedom of action. The other services also command and control on this bases. In the armed forces of Germany's allies, the beginnings of Auftragstaktik are recognizable. Many allied armed forces have tried to introduce Auftragstaktik based on the German experience and adopted it to their specific military cultures. Misinterpretation and misunderstanding, however, very often accompanied this attempt and process, and the intent to use Auftragstaktik very often degenerated to a lip service.
Lieutenant Colonel Wittmann identifies a broad variety of definitions of Auftragstaktik in his literature analysis. Since Auftragstaktik lacks from theoretical foundation, he tries to ground it theoretically in an interesting and convincing manner.
His work has, undoubtedly, extraordinary relevance to the present and future dimensions of leadership in the multinational structured armed forces of today, but also in areas outside of the military sphere.
Christian E.O. Millotat
Major General (Ret) German Army
Ralf Hammerstein, Deliberalization in Jordan. The Roles of Islamists and U.S.-EU Assistance in stalled Democratization
Ralf Hammerstein
Deliberalization in Jordan.
The Roles of Islamists and U.S.-EU Assistance in stalled Democratization
196 Seiten, paperback, Berlin 2011.
978-3-937885-37-7, Preis: 16,80 €.
Despite some political openings in Jordan during the 1980s, the democratization process is presently stalled. What explains the lack of continuous democratization in Jordan while democratic transitions in many other countries around the world have taken place? This study seeks to understand the reasons behind stalled democratization in Jordan by analyzing three variables: the nature of the opposition movement; the role of domestic and international events in shaping opposition-regime interactions; and the role of U.S.-European Union (EU) assistance to Jordan. The major finding of this study is that democratization in Jordan has stalled due to the regime's policy of preventing political opportunities to maintain the status quo backed by the U.S. and the EU. Political inclusion of the Muslim Brotherhood (MB) will bode well for Jordan's democratic progress. The MB's strategic behavior has withstood an Islamist radicalization in light of repression and unpopular western policy. Nevertheless, neither the U.S. nor the EU pushed for more liberalization, which enables the MB to gain political access. The U.S. and the EU opted for a realist approach, focusing on security in Jordan. This thesis proposes a rethinking of assistance to Jordan based on a burden sharing between the U.S. and the EU.
Ralf Hammerstein is General Staff Officer in the German Armed Forces (Bundeswehr).
Frank Hagemann, Strategy Making in the European Union, Berlin 2010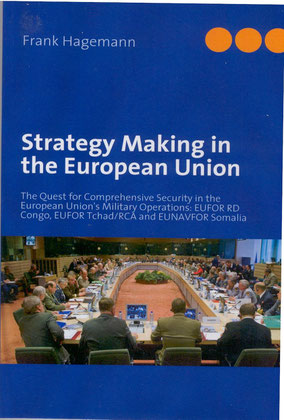 Frank Hagemann, Strategy Making in the European Union. The Quest for Comprehensive Security in the European Union's Military Operations:EUFOR RD Congo, EUFOR Tchad/RCA, and EUNAVFOR Somalia, 148 Seiten, Paperback, Berlin 2010.
978-3-937885-35-3, Preis: 14,80€
This study analyzes the European Union's approach to crisis management and compares the three most recent operations, EUFOR RD Congo, EUFOR Tchad/RCA, and EUNAVFOR Somalia, as case studies. It finds that the European Union has reached a common understanding of comprehensive security, but it has failed to develop and implement a truly integrated approach at the political and strategic level.
The study identifies three decisive factors for the improvement of the EU's comprehensive approach to security. First, the European Union needs a sound concept through which its plethora of civil and military tools could be seamlessly integrated and synchronized in a truly coherent approach. Second, the European Union could benefit from the establishment of a permanent Operation Headquarters providing the requested input from the very beginning of the comprehensive planning process. Third, the EU's security and defense policy could become more coherent and capable if small groups of credible nations cooperated to offer leadership, perhaps in informal directorates. The key question in this respect remains whether and how the European Union can address the friction between the need for effective leadership on the one hand and the imperative of political legitimacy on the other.
Marc A. Walther, HAMAS between Violence and Pragmatism, Berlin 2010
Marc A. Walther, HAMAS between violence and Pragmatism, Berlin 2010,
200 pages.
ISBN 978-3-937885-27-8,  Preis: 16,80 €
Far from being solely a terrorist organization, Hamas is a heterogeneous movement which has situational awareness and uses violence or political participation after a cost-benefit analysis. Hamas' main objective is to stay in power and preserve its identity. Hamas is unlikely to publicly reject its ideology. Two opinions about Hamas are prevalent. On the one hand Hamas is assessed as a radical terrorist organization. The policy implication of this first opinion is simple: Hamas cannot be reformed and will continue to use violence. Therefore, Hamas must be neutralized. On the other hand, Hamas is assessed as a social movement which does not necessarily need to use violence. This school of thoughts assesses Hamas as a movement that can learn to refrain from violence. The policy implication of this position is that Hamas' inclusion in politics supports the process of moderation of Hamas into a non-violent organization. Both policies either proved to be ineffective or imply risks. This thesis asserts a middle position. Hamas' decisions to act depend on two factors. First, its internal situation is of importance. Second, and even more important, the political and situational circumstances on the ground in Palestine have a strong impact on Hamas. The middle position implies that the situation on the ground can be influenced in a way that may give Hamas little or no incentive to use violence.
Michael G. Lux, Innere Fuehrung - A Superior Concept?, Berlin 2009
Michael G. Lux, Innere Fuehrung - A Superior Concept of leadership?,
160 pages, Hardcover, Berlin 2009.
ISBN 978-3-937885-19-3, Preis: 16,80€.
This study describes the inner design of military forces in a German democracy-Innere Fuehrung-in the face of new challenges. "Transformation" and its various manifestations, including EBAO and NCW/NCO are contrasted with Innere Fuehrung. Differences of contemporary NATO, U.S., and German concepts are discussed and possible connection points for Innere Fuehrung are highlighted.
Some of the approaches examined are dominated by the extensive use of technology. The analysis is focused on a possible contradiction between technology and Innere Fuehrung as an enabler of successful interagency cooperation.
The study concludes that Innere Fuehrung is a guiding principle based on the application of the German constitution, the Basic Law, to the reality of soldierly service. In contrast to Transformation or RMA, Innere Fuehrung emphasizes the human being as a citizen rather than technology as tools of war. Innere Fuehrung constitutes the heart of the Bundeswehr's institutional culture and remains applicable in the present. Citizens in uniform at home in the pluralism of state and society are best able to adapt to the security and defense challenges of the present-in contrast to an exclusive military caste or an outsourced mercenary horde.
Donald Abenheim, Soldier and Politics Transformed, Berlin 2007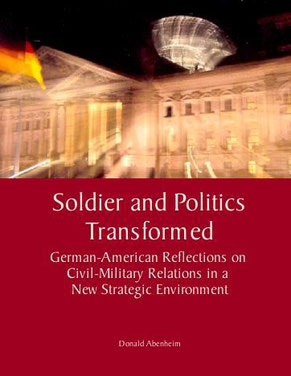 Donald Abenheim,Soldier and Politics Transformed.
German-American Reflections on Civil-Military Relations in a New Strategic Environment, 256 Seiten, Hardcover, Berlin 2007.
ISBN 978-3-937885-06-3, Preis: 29,80€.
The present volume puts forward two propositions. First, the altered face of armed conflict in the early twenty-first century remains political in the sense that Clausewitz suggested to his readers in the early nineteenth century amid the nationalization of war and the eclipse of the old régimes of dynastic absolutist Europe. Second, this book reflects the author's conviction that the men and women at arms of NATO and the European Union must know and understand one another within the respective national experiences of war and peace, especially as the soldier and politics evolve in and among the twenty-six NATO allies. Such knowledge forms the basis for sound policy and efficacious strategy in an age of proliferating conflict.
Sven Lange, Revolt against the West, Berlin 2007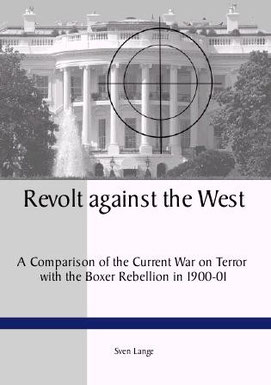 Sven Lange, Revolt against the West
Miles-Verlag 2006, 132 pages.
ISBN 978-3-937885-07-2,  € 14,80
This book compares the Western response to two radical challenges in eras considerably removed in time: the 1900-1901 Boxer rebellion in China and today's Islamic terror. It brings a much-needed historical perspective to bear in assessing the strengths and weaknesses of the contemporary Western conceptualization of the al-Qaeda and Taliban threat as a "clash of civilizations." It demonstrates that the current struggle against Islamic fundamentalism is not an altogether new challenge to Western interest and values. Al-Qaeda and the Taliban are in the end an expression of the same forces of resistance that also led to the origination of the Boxers in 19th century China. The cultural pressure that the West unavoidably developed by its imperialistic policy in the 19th and early 20th centuries was replaced by the penetration of the world with values, standards and symbols of the Western way of life and civilization in the course of globalization. The West ought to understand that the current terrorist threat is not "the next stage of history," as some scholars erroneously puts it, but a known historical phenomenon in a new form, for which neither the West nor other cultures bear the blame.
Frank Reimers, Security Cultures in Times of War: How did the Balkan War effect the Security Cultures in Germany and the United States?, Berlin 2007.
Frank Reimers, Security Cultures in Times of War
Miles-Verlag 2007, 162 pages. 
ISBN 978-3-937885-16-2,  € 14,80
This book uses a comparative case study approach to examine how security cultures change under the impact of political shocks and learning through failure. Analyzing the security cultures of Germany and the United States as they evolve under the impact of the war in Bosnia-Herzegovina from 1992 to 1995, the study thereby also enhances our understanding of German and U.S. foreign policies. Using paired observations for controlled comparison, it employs process tracing to examine the nature and quantity of change. The case studies demonstrate that security cultures influence the assessment of political situations, restrain policy objectives, and condition the range of issues to which political attention is devoted. Both cases reveal that security cultures affect the evaluation of policy options and the choices that are made. The author argues that different transformations of German and U.S. security cultures led to divergent political behavior particularly with regard to the use of force, resulting in more forceful and effective interventions in Bosnia and a reframing of future interventions in third-party conflicts. Domestic reactions to the Bosnian war transformed the security culture in Germany, whereas reactions in the U.S. triggered a re-ranking of cultural preferences. Understanding how security cultures change and evolve through exogenous and endogenous factors improves the chances of policy success in today's challenging international environment.
Michael Stolzke, The Conflict Aftermath, A Chance for Democracy: Norm Diffusion in Post-Conflict Peace Building, Berlin 2007
Michael Stolzke, The Conflict Aftermath
Miles-Verlag 2007, 156 pages.
ISBN 978-3-937885-15-5,  € 14,80
Democratization in post-conflict situations is a major challenge, now and in the foreseeable future. Yet, the puzzle of why some of these attempts fail and others succeed is still unresolved. This thesis argues that post-conflict democratization by third parties is, at its core, a norm diffusion process. Successful democratization depends foremost on the acceptance and internalization of democratic norms by the target society. Knowledge of the norm diffusion concept, especially the influence of the two variables, cultural match and norm empowerment on the process might lead to the development and the application of better democratization strategies. This thesis argues that post-conflict situations with their specific features-primarily characterized by value disorientation-offer a unique opportunity for a democratic transition. It examines the cases of the Weimar Republic, the Federal Republic of Germany, and Bosnia and Herzegovina (Bosnia) in order to demonstrate the explanatory power of the norm diffusion theory, specifically its added value in studying success and failure of past and present democratization in post-conflict situations.
Klaus M. Brust, Culture and the Transformation of the Bundeswehr, Berlin 2007
Klaus M. Brust, Culture and the Transformation of the Bundeswehr, Miles-Verlag 2007, 108 pages.
ISBN 978-3-937885-10-0,  € 16,80
The aim of this book is to show that Germany has to enhance its effort to integrate and transform national forces into European armed forces, while it retains the core values of democracy amid a growing emphasis on cultural and ideological conflict. Ultimately this book will develop a model that maps out the political con-sequences of transformation and puts it into an edu-cational framework for practical application in the ranks of the German armed forces and possibly beyond. Taking the goals of the transformation of the Bundes-wehr into account, this book will illustrate why the German armed forces still have to intensify their efforts for European military integration in the cultural dimension of society.
Ekkehard Stemmer, Demography and European Armed Forces, Münster 2005
Ekkehard Stemmer, Demography and European Armed Forces
Berlin 2006, 146 Seiten.
ISBN 3-937885-01-3,  € 19,80
Taking into account demographic trends like aging, global distribution of the population, and migration, Europe faces increasing geopolitical challenges in the future, based on the cleavages "north versus south", "rich versus poor", and "old versus young". Demographic factors are responsible not only for a declining workforce but also for increasing retirement rates. The consequences are a decreasing GDP and increasing social welfare costs. The further development of European armed forces has to take place in this tense financial situation.
Taking the goals of the European Security Strategy into account and considering the necessity that the military capabilities have to be adapted to meet a new threat scenario, this book tries to illustrate why Europe has to intensify its efforts of European military integration, mindful of the limitation of demography and politics.
Cepanec, The Stony Road to Membership, Potsdam 2002
Željko Cepanec, Croatia and NATO. The Stony Road to Membership,
116 pages.
ISBN 3 - 8311 - 4240 - 8, € 9,-
This study analyzes the past and present development of Croatia and the Euro-Atlantic political, military and economic spheres. It suggests that the next logical step on the way to a stable and prosperous Southeastern Europe is Croatian admittance to NATO. Providing historical, economic and political facts, the study argues that in the present situation, almost all necessary requirements for NATO membership have been satisfied by Croatia. Therefore, acceptance itself is only a political decision of the NATO members.
The study provides evidence that Croatia has become equally or better prepared than other serious aspirants to be a member of NATO. It also demonstrates that Croatian membership represents a significant benefit to the Alliance. Additionally, the study addresses various benefits that the neighboring countries might reap from Croatian membership in the Alliance.
Uwe Hartmann, Carl von Clausewitz and the Making of modern Strategy, Potsdam 2002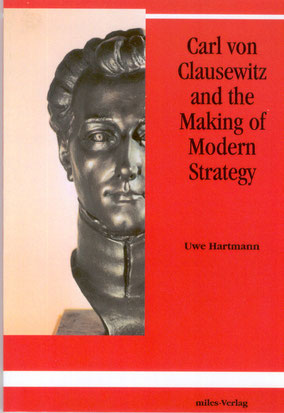 Uwe Hartmann, Carl von Clausewitz and the Making of Modern Strategy,
120 pages.
ISBN 3-8311-3387-5, € 9,-
Uwe Hartmann reveals characteristics of the strategic cultures in Britain, France, and Germany as major member states of the European Union (EU). Based on the interpretation of Clausewitz's theory of war and strategy in Britain, France, and Germany, main commonalities and diversities in strategic thinking are discussed. Analyzing on the international and state level why Clausewitz has been misunderstood, this study establishes Clausewitz's theory of war and strategy as the theoretical framework of strategy-making within the EU.